Munster Senior Ladies Football Final
Munster Senior Ladies D Football Final
Rockwell 1-13 Kilkee (Co. Clare) 3-6
At the end of an absorbing contest Rockwell won out by the narrowest of margins. They could have been left to rue many missed chances from their dominant possession in the course of this game. Kilkee were very incisive when in possession, thanks, in the main, to star midfielder Caoimhe Harvey, who was ably supported by the corner forward, Fidelma Marrinan. Rockwell opened the scoring through Roisin Finnane in the 5th. minute, only to have this cancelled out one minute later. Again the two sides traded points, Kate Barlow putting the ball over for Rockwell. Rockwell began to dominate the remainder of the opening half, with a further 4 points coming from R. Finnane, and a well finished goal from corner forward Norma Kennedy. Rockwell went in at half time 1-6 to 1-3 ahead.
Playing with the advantage of a slope in the second half Rockwell failed take full advantage and were a little spendthrift with the ball. The contest could have been put beyond doubt when Laura Stocksborough hit a powerful shot off the crossbar. Kilkee took their chances well scoring 2-3 in the second half. The Rockwell players, however, were content to send the ball over the bar when the opportunities arose. Rockwell's star performer, Roisin Finnane, as a result of her contribution, was named player of the match. Kate Barlow's work rate was top drawer, ably assisted with sterling performances from Aoife O'Shaughnessy at centre back, Laura Morrissey at mid field. Keeper Orla Cashman brought off some great saves while Niamh Walsh at full back broke down many forays through by Kilkee. Eilish Kennedy, up front, won a lot of possession and made some penetrating runs through the Kilkee half back line. Her sister, Norma deftly slotted her goal chance.
Scorers: R. Finnane 0-9, N. Kennedy 1-0, K. Barlow, A.O'Shaughnessy, L. Stocksborough, E. Kennedy 0-1 each
Rockwelll: Orla Cashman, Olivia Noonan, Niamh Walsh, Claire Hickey, Faye Dowling, Aoife O'Shaughnessy(Capt.), Moya Whelan, Laura Morrissey, Kate Barlow, Martha Faulkner, Roisin Finnane, Eilish Kennedy, Laura Stocksborough, Ellie O'Sullivan, Lucy Murphy (M. Faulkner 45), Emma Walsh, Siobhan Whelan, Annica O'Connor, Roisin Mc. Carthy.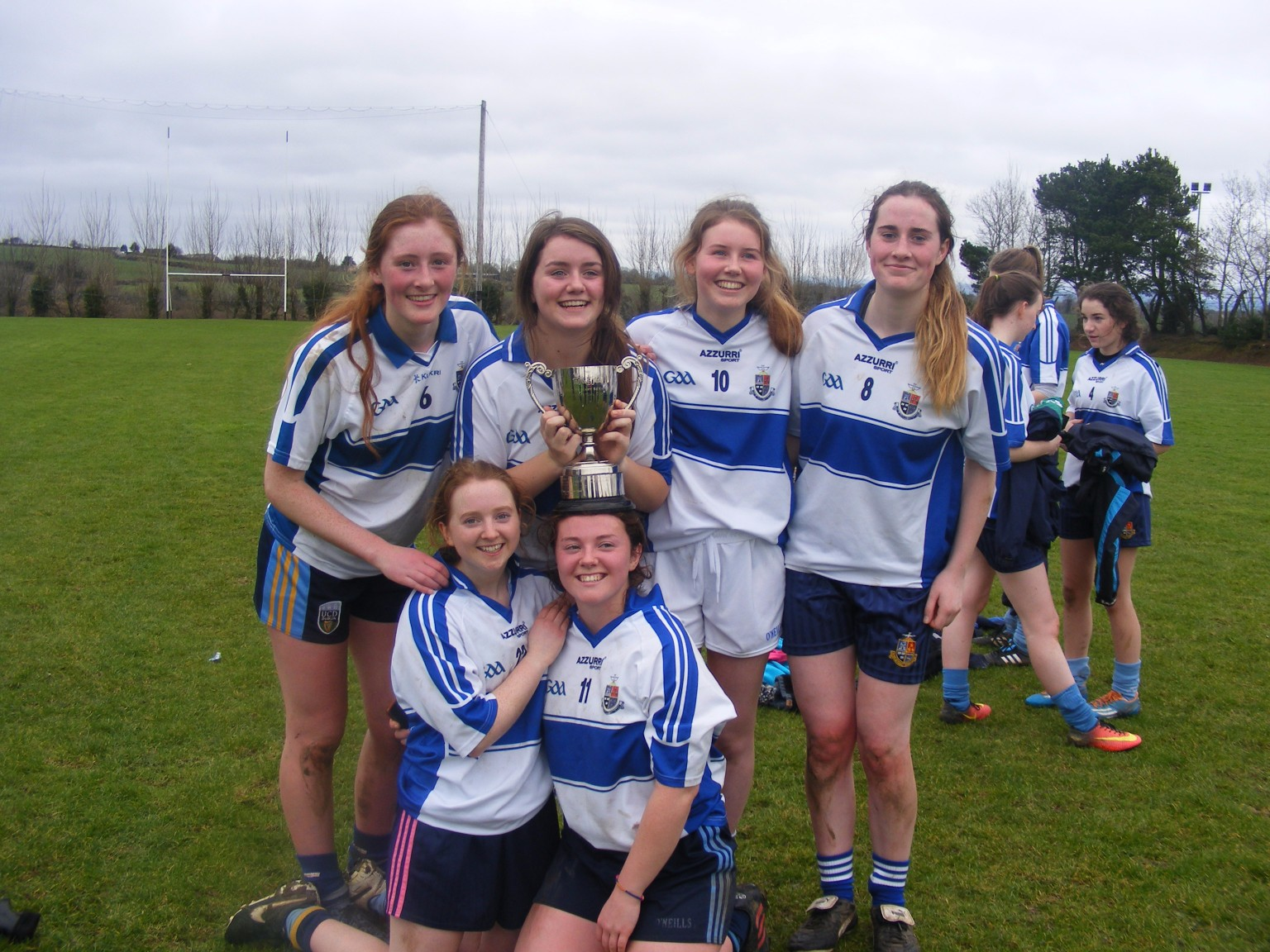 Back Aoife O'Shaughnessy, Niamh Walsh, Martha Faulkner, Laura Morrissey with the Cup
Front: Eilish Kennedy, Roisin Finnane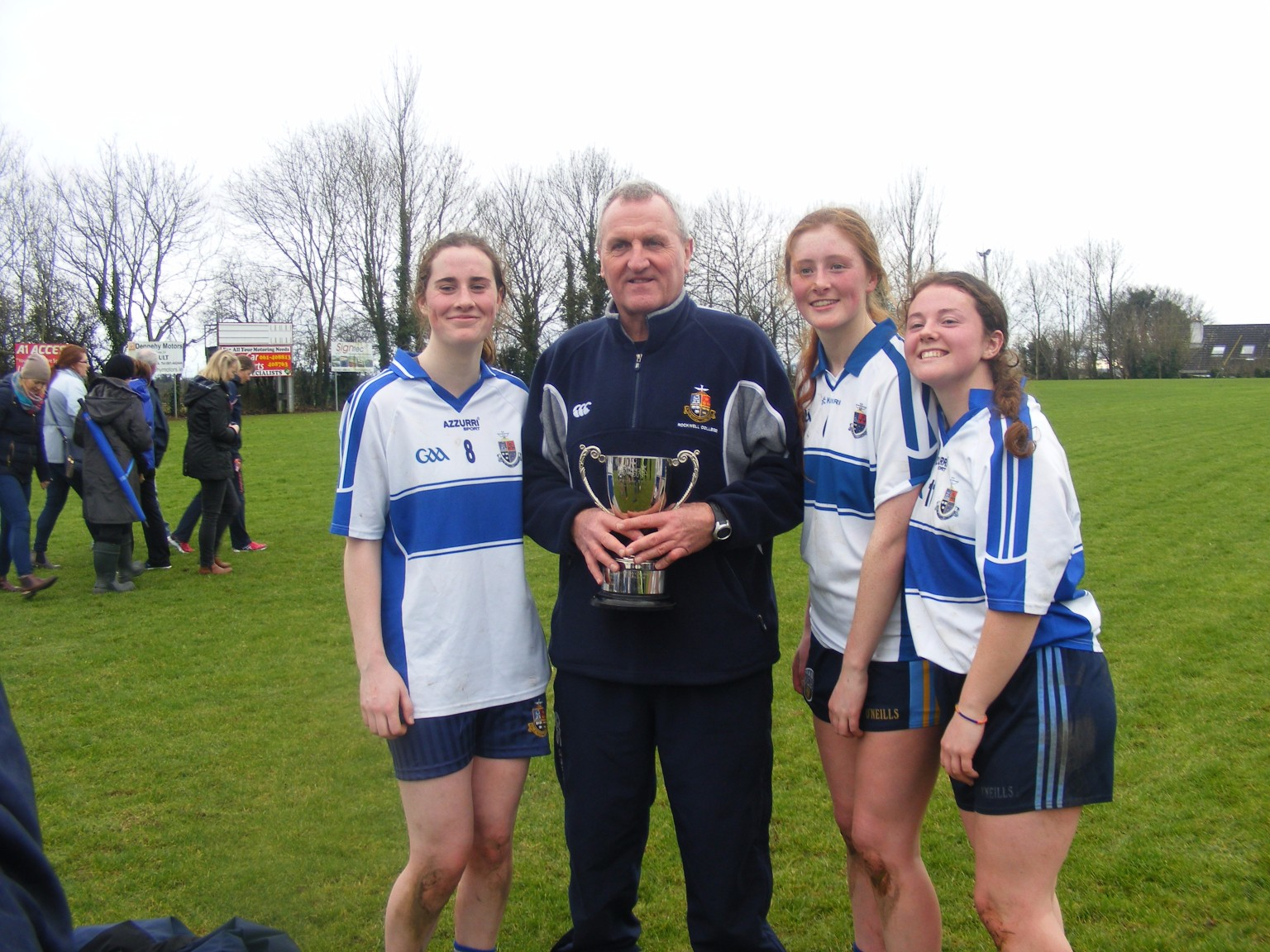 Laura Morrissey, Tony Smith (coach), Aoife O'Shaughnessy, Roisin Finnane