How Two Men Bridged 50 Years - Class of 1967
Clockwise, L to R:
Frankie Mealy, Derry O'Donovan, David Ashe, John Blewitt, Brian Cumiskey, Martin Moroney, Pat Mulcahy, Diarmuid Fawsitt, Guillaume Oates & Eamonn Tobin
Pat and Sean are also organising this year's Golf Cup- See here for details:
https://www.rockwellcollegeunion.com/products/uk-golf-classic-michael-brosnan-bowl
How Two Men Bridged 50 Years
Last month, the Rockwell College Union hosted its Annual Dinner in Cahir House Hotel, to a great reception. We saw many of our past members, old and new, and the evening was replete with our famous Rockwellian camaraderie. Of particular note however, was the exceptional 50th year reunion of our Class of 1967, due largely to the efforts of both Patrick Mulcahy and Sean Carter. What began as their idea of organising a reunion developed into a two-year long search, spanning most of the globe, to reconnect with as much of their class as was possible. While the years are not always kind, Sean and Pat manged to create not just a reunion, but rebuilt a network with a pedigree of over 50 years.
Work began on the event back in early 2015, when Sean and Pat began the long process of examining records and putting out feelers, in a bid to create new contacts. As anyone who has engaged in this manner of endeavour can attest, it can be difficult enough to bridge a gap of a decade, let alone five. Yet the two men persevered, drawing their initial findings from old annual copies, which Sean dutifully compiled into a comprehensive spreadsheet. He noted that, to their misfortune, that while the 1968 annual had contained full details of that year's students, the 1967 edition contained only cursory details. They continued, however, with their database, collecting as much information as they could initially, before branching out to their peers and colleagues. It was this organisational core that would serve to be an exceptionally useful tool in their search, as the database grew with an impetus all of its own.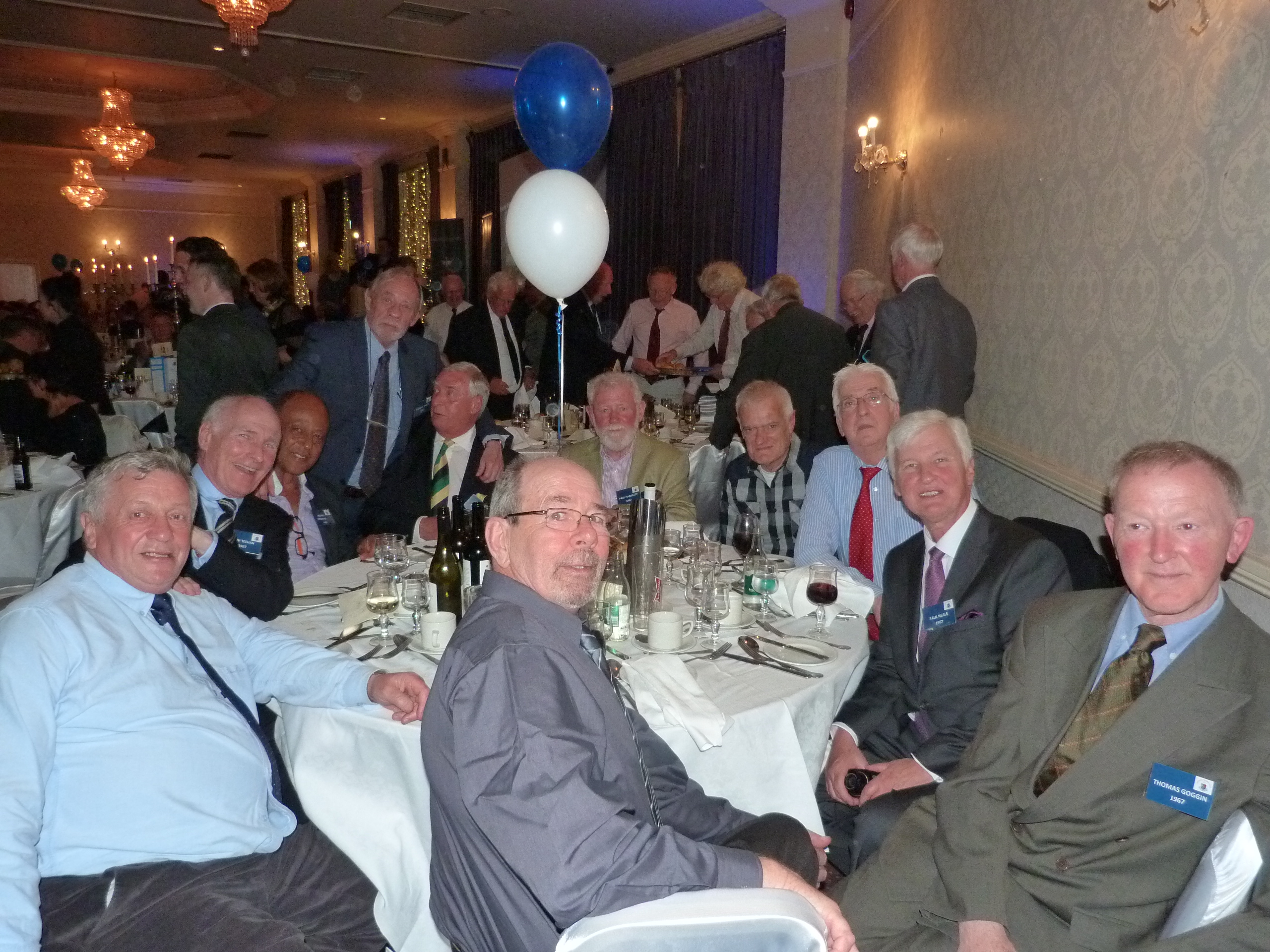 Front:
Paul Edney & Clockwise:
Brendan Donohoe, Tom Teehan, Rodney Hecksher, Michael Walsh ( standing ), Ray Cumiskey, Paul Hanratty, Tony Moore, Sean Carter, Paul Neale & Tom Goggin
The innovative, and ultimately fruitful, decision on their part to email (or on occasion, conventionally mail) copies of the list to their associates and identified individuals proved to be a huge boon. This, as Pat described, created a 'net' that began to expand over time, with individuals contributing information from as far afield as South Africa and Australia. The method was self-sustaining, as updated details allowed interested parties to investigate further by themselves, and details began to flood in. Indeed, several individuals went 'above and beyond' with their own contributions, such as Brendan O'Donoghue who provided a number of marble plaques for the event to commemorate the organiser's work.
However, not all of the updates received were positive. Both men noted that, while they enjoyed the challenge of finding some of their more elusive classmates, they were deeply saddened to learn of the passing of several of their former peers. In addition, some individuals simply could not be found, despite the best efforts of both men and their extended network.
Nevertheless, their efforts bore significant fruits, and the event was regarded as a remarkable success by all attending. Moreover, as Sean noted, the database now serves as a means of maintaining their extended peer network, and even members who could not attend the reunion now regularly stay in contact with one another using the details provided. This, in our view, is an exceptional achievement, as even the firmest of friendships can fade by chance over the years. We are confident now that the class of 1967 can maintain the links forged in the last few years and months, and indeed those made all those years ago on the pitches and grounds of Rockwell College.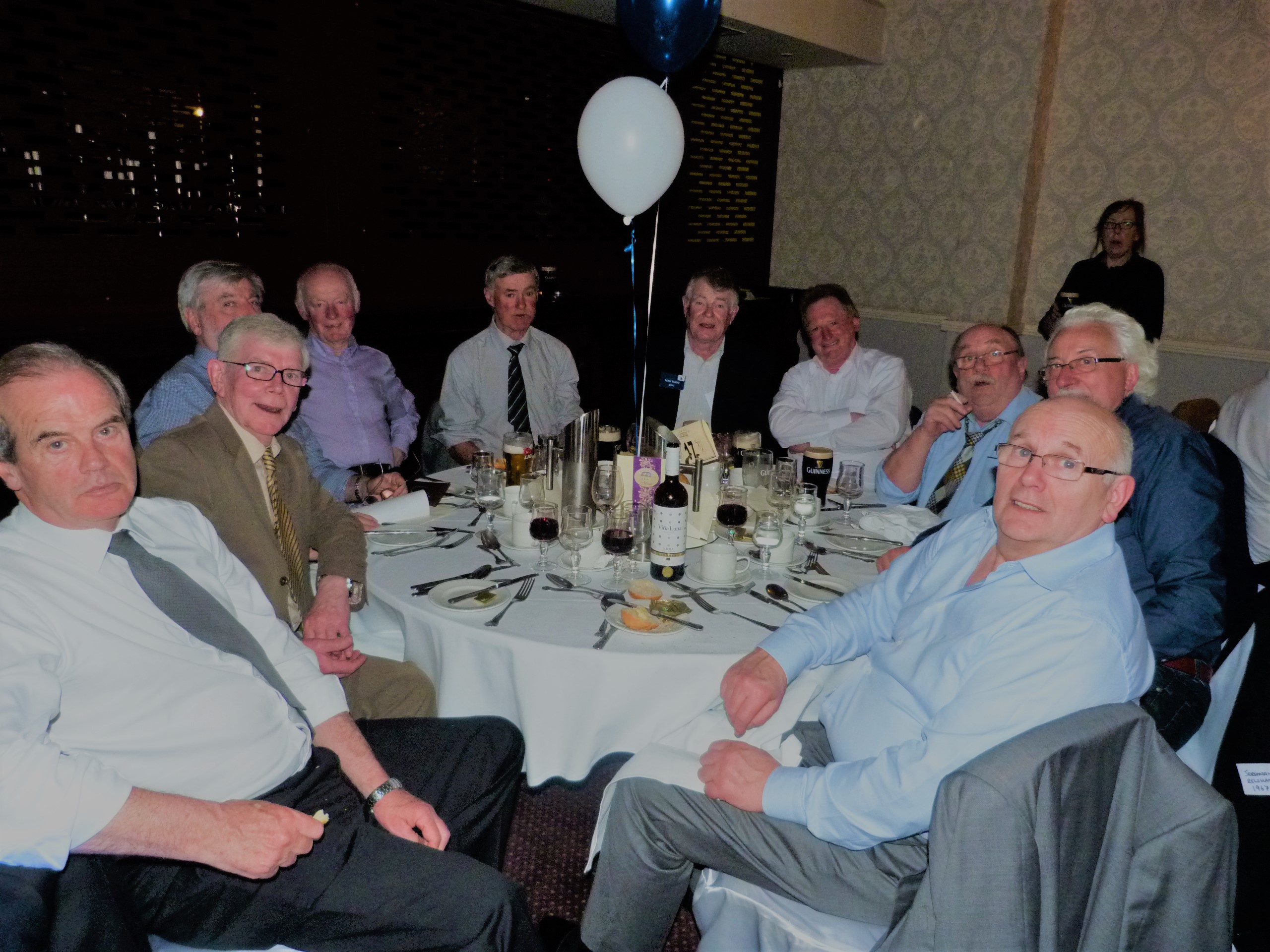 L to R:
Terry Hanahoe, Gerry Brocklebank, Joe Manning ( His head, sorry Joe ), Donie Mullane, John Lacy, Tony Burke, John Brosnan, John Leonard, Jer Relihan & Hugh Cormack
We would like to extend our thanks to Sean and Pat for the trojan work they put into this endeavour, and for contributing to a uniquely successful Annual Dinner.
If you are interested in attending another event organised by Pat and Sean, please click here for a link to the Rockwell Golf Cup: https://www.rockwellcollegeunion.com/products/uk-golf-classic-michael-brosnan-bowl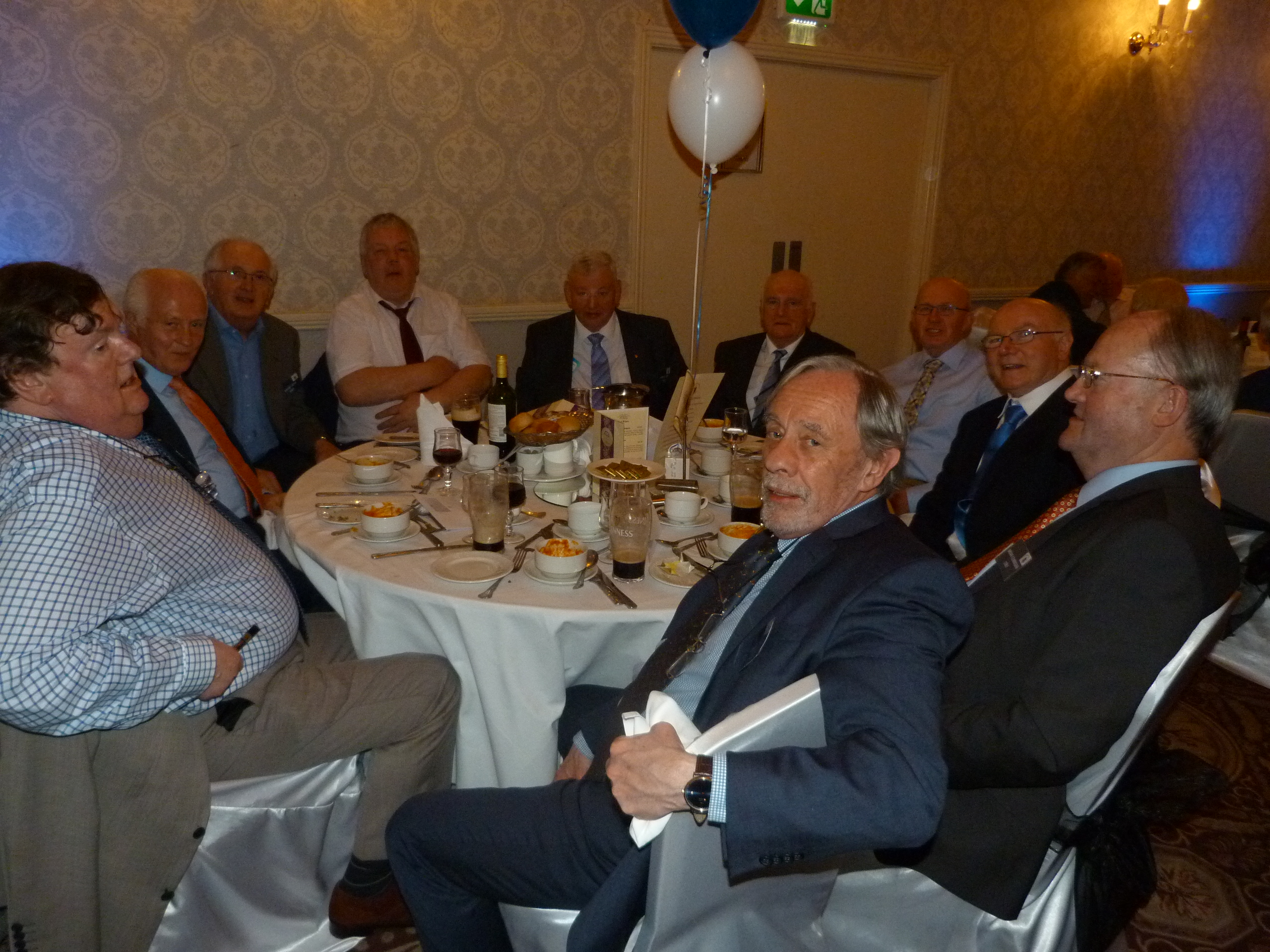 L to R:
Noel Regan, Mike O'Connor, David Ashe, Nicky Cooke, Joe Curry, Liam Collins, Patsy Browne, Oscar Lambe, Brian Corrigan & MIchael Walsh.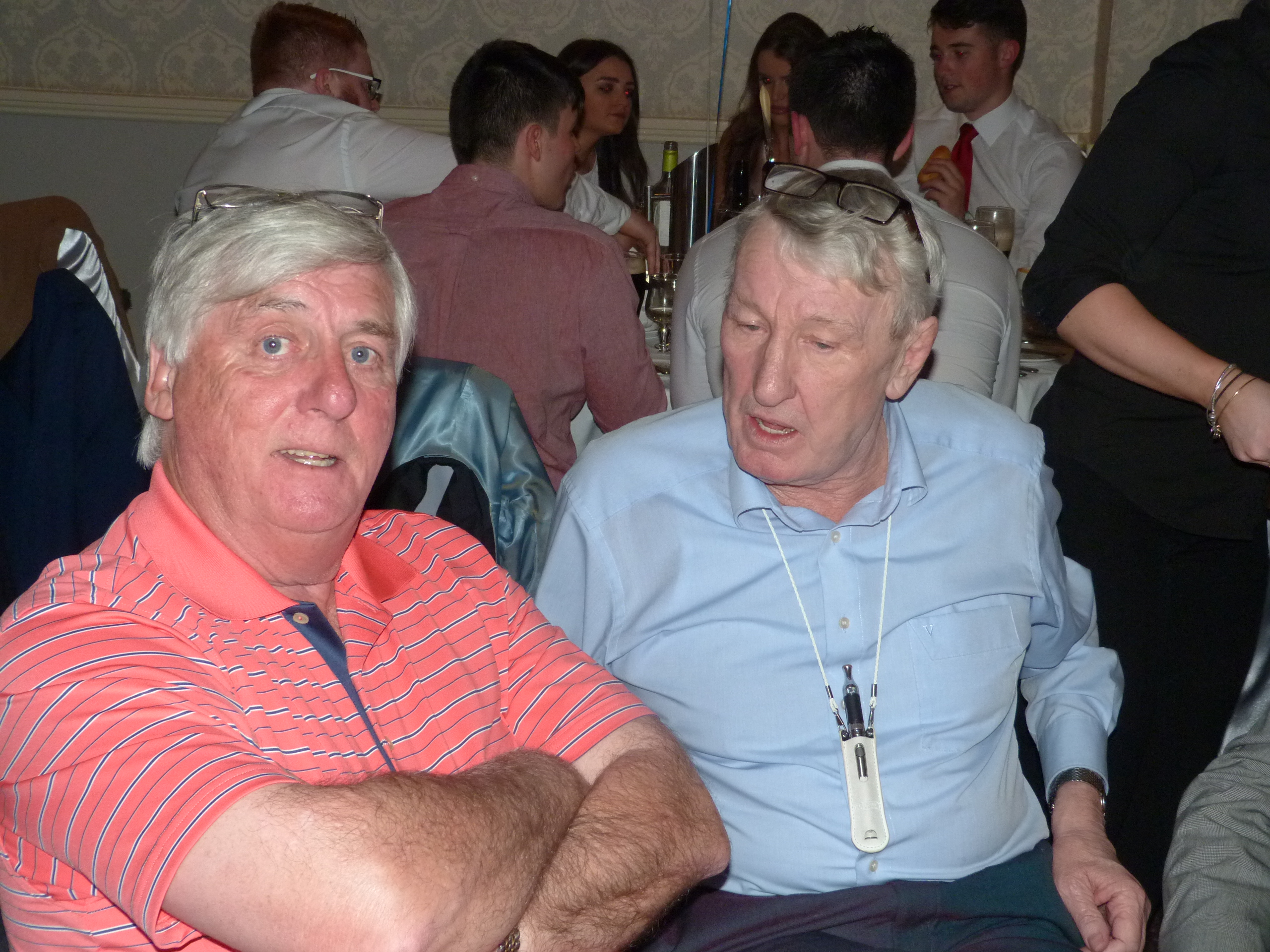 Dick Dunlea ( Striped shirt ) & Willie Duggan ( Former Irish International British & Irish Lions player )
For more photos, please click below for a link to our gallery:
https://www.rockwellcollegeunion.com/galleries/annual-dinner-2017-cahir-house
Video:
As a final note, we would recommend that anyone interested in a more detailed view of Rockwell in the Class of 67's time watch this video montage, "Rockwell College in the 1960's", created by Sean:
In Memoriam:
As noted above, we were greatly saddened to hear of the passing of some of our former pupils from the class of '67. While we endeavour to make note of all our departed alumni, the rigours of time and distance often do not permit us to do so. As such, we now present a list of those deceased members of the class of 1967, and send our kindest regards to any of their family members and friends yet mourning their passing.
Eric Armitage Joe Daly
John Joe Barry Finbar Carmody
Michael Fewer Michael Grace
Paddy Hooper David Houlihan
Ray McDonald Paddy Meenan
John Morrissey Michael O'Reilly
Thomas O'Sullivan Pat Quinlan
Michael Rogers Peter Young
Brian Lavelle