Match Report: Munster Development 'A' Schools final
Shane Neville (capt.), Miguel Gomez, Lorenzo Grebe, Lorcan Cummins with the Munster U15 Development Cup.
Result: Rockwell 29 St. Munchins 12
Rockwell found themselves back in the final of this prestigious competition by virtue of the fact the C.B.C. were thrown out, having used a player deemed ineligible in the semi-final. Rockwell had played some excellent rugby against Christians in the semi-final where their expansive play was a pleasure to watch, and they duly brought this game into the final.
This scoreline does not reflect the close nature of the game and Rockwell capitalised on a blistering start. Against Munchins, who had won the Munster Junior Cup this year, they expected a gruelling and close encounter and they duly got this but they entered the game with great belief in their own ability. Five minutes into the game, and from a Munchins knock on, Shane Neville was given the ball following some excellent back play. Shane danced through two defenders to touch down in the corner. Conor Hogan narrowly missed the conversion. Five minutes later Rockwell moved the ball from their own back line with Ben Farrelly making the break and offloading to Peter Mc.Garry which allowed him score in the same spot. This time Conor Hogan added the extras from a very difficult position. The Rockwell pack dominated the first half and laid the platform for Tom Downey to marshal his backline to good effect. Up front, Tarcisio Chandra and Henry Buttimer were making some great tackles. Rockwell were now rampant and twelve minutes before halftime Peter Mc.Garry scored his second try. At 17-0 Rockwell took the foot of the pedal a little which allowed Munchins to lay siege to the Rockwell line, and from a block down kick they went over for a converted try. Good tackling by the Rockwell pack near the halfway line saw them turn over possession which they moved through their backline to allow Peter Mc.Garry go over for his hat trick. This left the half time score 22-5 in Rockwell's favour. This lead was largely due to some excellent team work and terrific tackling by Eddie Dunphy and James Cronin.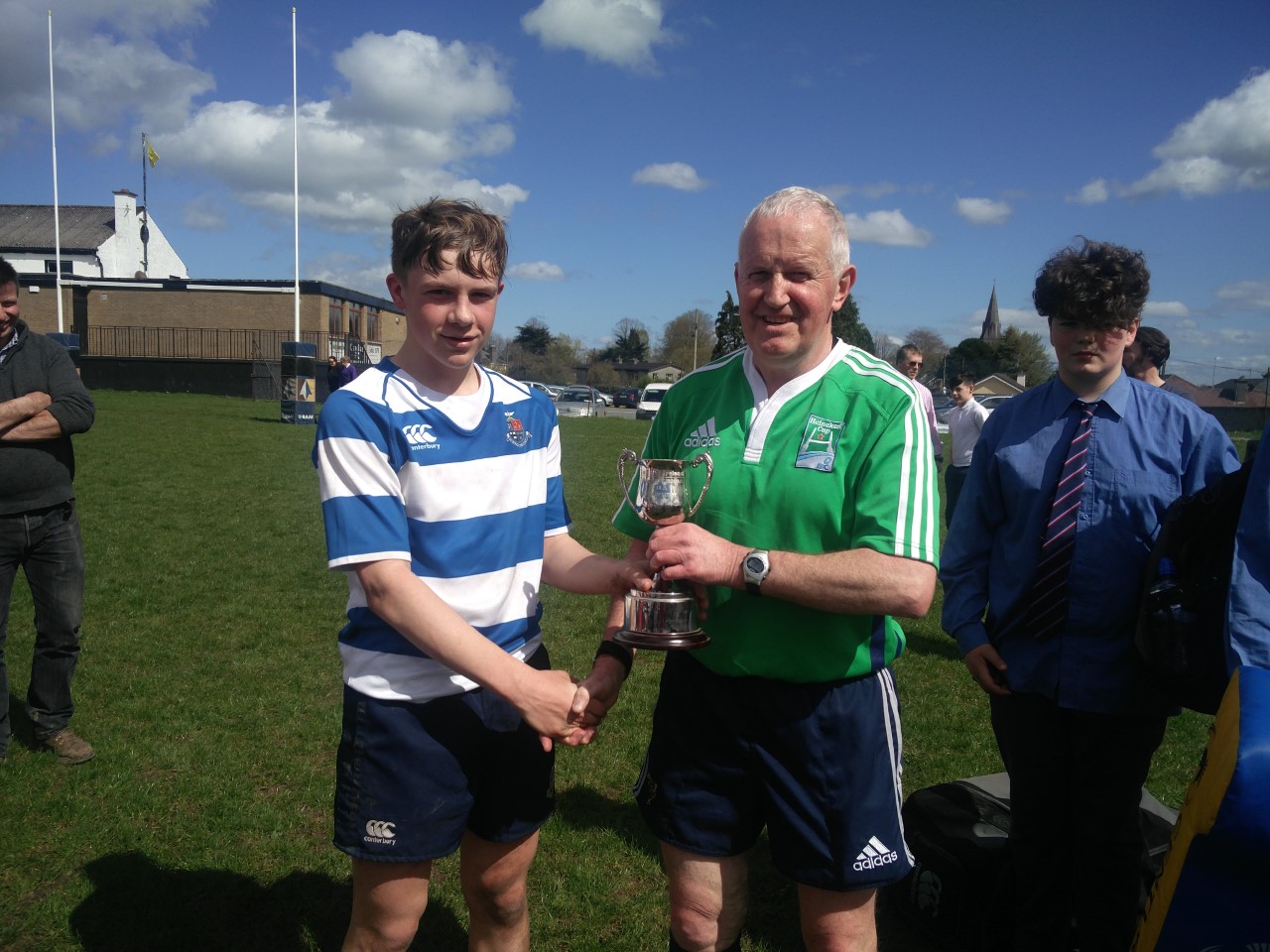 Jim Kissane (Referee) presenting Munster Cup to capt. Shane Neville
Munchins turned around with a strong wind in the second half which they used to their advantage. Within 5 minutes they were camped on the Rockwell line, and after a number of phases finally went over for a converted try. Munchins were now on the front foot and Rockwell had to stem many an assault. Following a lovely turn over by the pack Tom Ross put through a nice box kick from his own 22. This was brilliantly caught by captain, Shane Neville, who weaved his way through two tackles to score under the posts. This was again converted by Conor Hogan. The excellent work rate and defensive tackles by Niall Maher, Casey Jay Coleman, Joseph Lawrence and John Kennedy saw out the game. This lead to jubilant scenes on the stroke of full time as the Rockwell team and supporters were delirious. Rockwell had lifted the trophy against the odds.
Team: Tarcisio Chandra, Joseph Lawrence, Lorcan Cummins, James Cronin, Niall Maher, Eddie Dunphy, Tom Downey, Shane Neville (Capt.), Tom Ross, Conor Hogan, Peter Mc.Garry, Henry Buttimer, Casey Jay Coleman, John Kennedy, Ben Farrelly. Subs: Harry Mc.Sweeney, Lorenzo Grebe, Jamie Browne, Michael Long, Toby Collier, Zac Lynch, Mario Gomez, Tadhg Carey, Bobby Smith, Richard Buchelli.f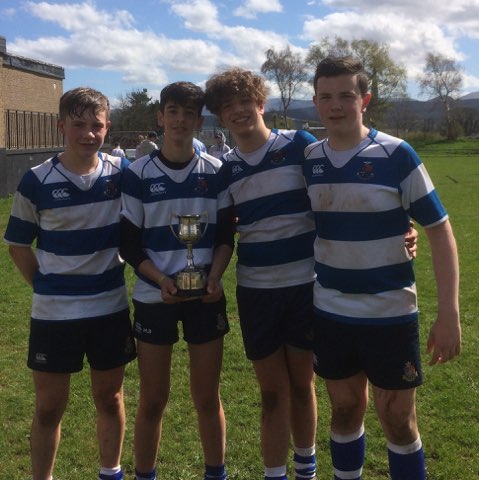 The successful Rockwell team.