Rockwell College defeat holders, Glenstal, to take the Limerick Cup
Above: Conal Kennedy makes the tackle
Rockwell College staged a terrific second-half comeback to seize the Limerick Cup from Glenstal Abbey, the defending champions, in a pulsating final at Thomond Park on Wednesday October 25th.
The game opened with the two sides exchanging penalties in the first half, Bansha's Jake Flannery scoring for Rockwell College. Shortly after, a loose pass from Glenstal was kicked through by Rockwell College's Sean Cotter (Clonmel) for Jake Flannery to gather and take it over the line for their first try. Glenstal responded quickly with a try, which they failed to convert. The teams were now tied at 8 each. As Rockwell attacked laid siege to the Glenstal 22, Ciaran Ryan (Dundrum) broke the line with another try which Jake Flannery converted to see Rockwell forge ahead. Glenstal responded once again with two further converted tries and at half-time the Limerick school led by 22-15.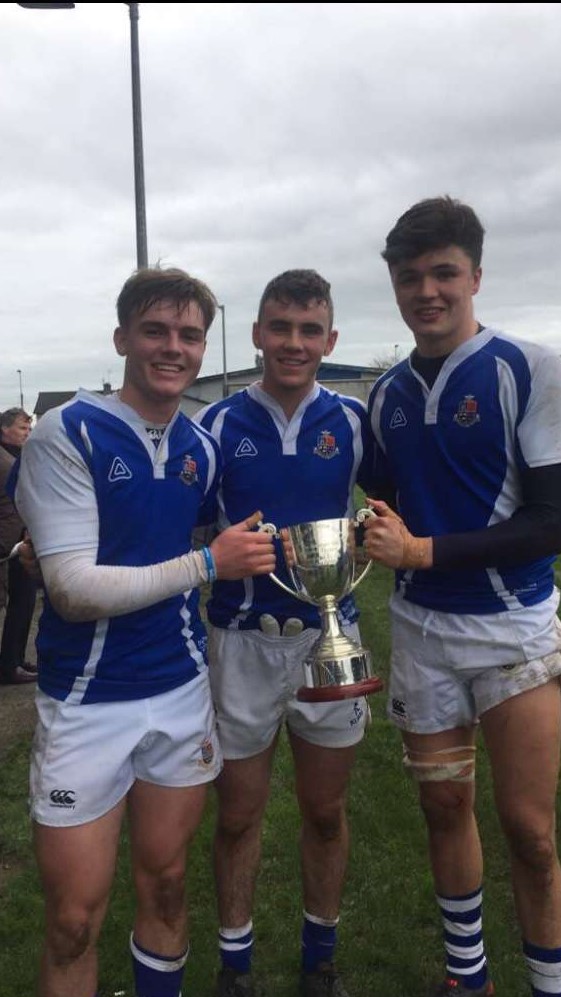 Above: Jake Flannery, Captain Jack Harney, Conal Kennedy with the Limerick Cup
Into the second half, Glenstal clearly had the momentum going their way, despite some excellent play from many Rockwell players, not least Cathal Hayes (Thurles), who substituted for the injured Brendan Ryan. As the half progressed Rockwell challenged Glenstal with some enormous hits, including one from Athea's Jack Hunt which helped to switch the direction of play to favour the Tipperary school. Substitute Mark Heffernan (Fethard), who replaced Sean Cotter, scored an inspirational try which was easily converted by Jake Flannery to bring the sides level 22-22 going into the last quarter. With minutes to go Roscrea's, James O'Meara, landed a terrific winning try, once again converted by Flannery. A stalwart defence from Rockwell College for the crucial closing minutes kept Glenstal at bay before the final whistle.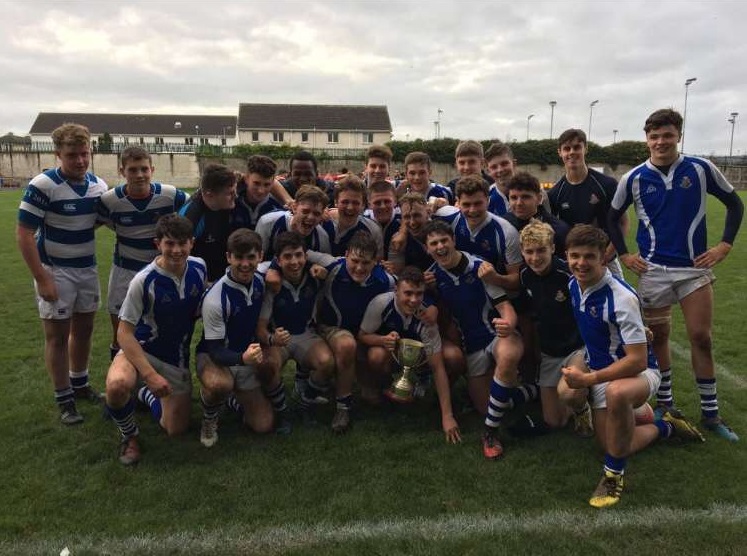 Above: The successful Rockwell team with the Limerick Cup